SocietalSystem ( StS )


Humanity's Operating Complex
www.societalsystem.com
SocietalSystem ( StS ) Transition 2025 Campaign
World Streets and Roads
Crowd-Surveys
The indispensable start initiative for Societal Co-Governance, e-Transition towards Sustainable Socio-economy and Finance,

and for setting-up Emergency
Plans, in any Geo-Territory on the Globe.
An exercise in holistic complexity driven crowd-research and solutions.
Horizontal Navigation Page

Societal Street Surveys

, World Geo-Territories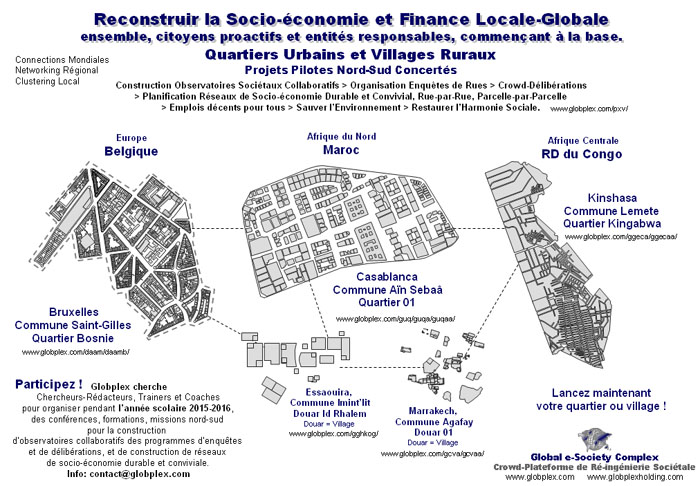 Téléchargez le Diagramme clickable Programmes d'Enquêtes Sociétales Pilotes
Lancez maintenant un projet sociétal pour votre village ou quartier !
Et découvrez 101 opportunités d'investissements durables et conviviaux,
et d'innmobrables emplois décents.
Complete system available in english, french, portugese and dutch.
With training programs.
Info ? contact@societalsystem.com.

SocietalSystem Past and Ongoing Societal Street Survey Projects
World Geo-Territories Horizontal Navigation Page Street Surveys Pages
Streets Surveys Topics Sectoral List
-
Streets Survey Topics World Geo-Territories List
Spatial Plans 2025
-
Local Co-Planning System
Essential complements to the Streets Surveys
Societal Transition and Development Plans > 2020
SocietalSystem Pilot Geo-Territories

Listings of Streets and Micro-Localities
SocietalSystem Selected

Checklists

, including Survey Forms,

related to Local Surveys and Planning
They constitute the object of a range of
Training Modules
.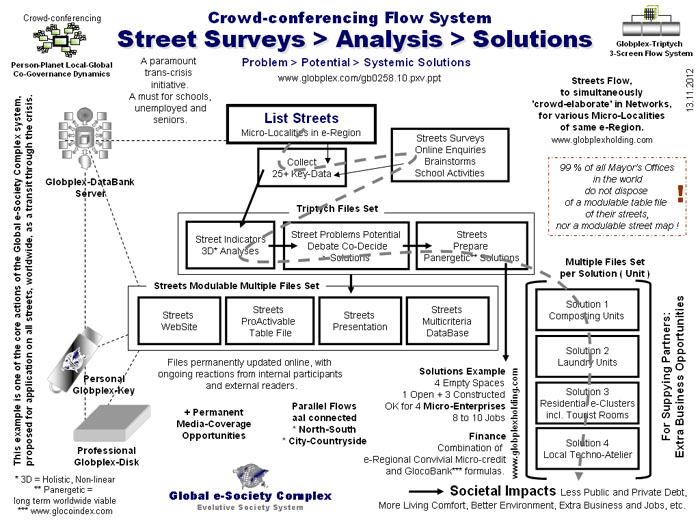 Download the latest version of the

SocietalSystem Streets Standard Survey System Diagram
Each Survey is being backed by a set of WebPages, download Table-Files, Presentation-Files,
Database-Files and online Interactive Tools.
Preparation of an exit from the Crisis,
the creation of a SocietalSystemHolding Platform and Selection of Local Micro-Entities per Micro-Locality,
should start with the professional organization of Streets Surveys
,
in a flow of Research, Deliberations and Co-Decisions, and Socio-economy Solutions.
For those who view their position as the "99%", deprived by the "1%" overwealthy:
stop feeding the 1 % with your growing overconsumption and dependency of goods and services, supplied by the 1%.
Start surveying your street

for realistic, viable and convivial alternatives, meter by meter, parcel by parcel.
You will discover that the potential for a trans-crisis, more balanced society and sound environment is high.
However, high is also the urgency to avoid a point-of-no-return, for all of the 100 %.
Streets Surveys Topics - Sectoral List
Survey approaches per geo-territory include Streets to Indicators, Streets to Micro-Entities, and vice-verse of both.
SocietalSystemHolding.com Convivial Socio-economy Entities Platform
World Streets and Roads Surveys Program

Study Learning Training Coaching

Syllabus
World Streets and Roads Syrveys Extended Training Program
Synoptic Training Program

Outline

World Streets and Roads Surveys Program
SiteMap

World Streets and Roads Surveys Program
-
Key-Diagram

World Streets and Roads Surveys Program
SocietalSystem FindEngine

World Streets and Roads Surveys Program
-
Horizontal Navigation Pages

World Streets and Roads Surveys Program
Blank Document Models

World Streets and Roads Surveys Program
SocietalSystem Documents Flow

World Streets and Roads Surveys Program
-
Related SocietalSystem-Sites

World Streets and Roads Surveys Program
Key-Terms

World Streets and Roads Surveys Program
-
Key-Checklists

World Streets and Roads Surveys Program
SocietalSystem Spheres-Flow Applications

World Streets and Roads Surveys Program
-
Societal Sectors Applications

World Streets and Roads Surveys Program
-
Disciplines Applications

World Streets and Roads Surveys Program
Geo-Territorial Applications

World Streets and Roads Surveys Program
-
Societal Entities Applications

World Streets and Roads Surveys Program
Promo Cards

World Streets and Roads Surveys Program
-
Promo Posters

World Streets and Roads Surveys Program



3-fold Flyers

World Streets and Roads Surveys Program
-
Promo Video

World Streets and Roads Surveys Program
Expositions

World Streets and Roads Surveys Program
-
Excursions

World Streets and Roads Surveys Program
Intro-Promo Slideshow

World Streets and Roads Surveys Program
-
Synoptic Triptych Set

World Streets and Roads Surveys Program
Key-References

World Streets and Roads Surveys Program
-
Quotations

World Streets and Roads Surveys Program

Holistic Thinking Applications World Streets and Roads Surveys Program
-
Key-Survey

World Streets and Roads Surveys Program
Societal Top-Indicators DashBoard

World Streets and Roads Surveys Program
Societal e-Transition 2025 Proposals and Projects

World Streets and Roads Surveys Program
SocietalSystem-Tasks List

World Streets and Roads Surveys Program
-
Global Supervisor

World Streets and Roads Surveys Program
SocietalSystem Operating Features

World Streets and Roads Surveys Program
-
SocietalSystem-Packages Products Services Events

World Streets and Roads Surveys Program
SocietalSystem Associates and Partners

World Streets and Roads Surveys Program
Global e-Society Complex System
-
SocietalSystem Central Homepage
SocietalSystem Synoptic MetaSitemap
-
SocietalSystem-DataBank
-
SocietalSystem-Domains Outline
-
SocietalSystem-FindEngine DataBase
SocietalSystem Deliberation Forum
Page update:

30.01.2021

Page URL

:

http://www.societalsystem.com/pxv/



General contact

:
contact@societalsystem.com


© SocietalSystem ( StS )
www.societalsystem.com